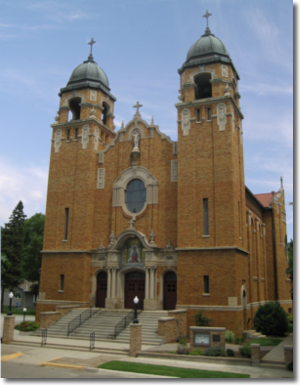 Tri-Parish Mass Intentions
You are invited to pray the rosary 1/2 hour prior to masses.
Thursday (9-21)
9:00 am - Brewster
† Dick & Joanne Spada
Friday (9-22)
9:30 am - Sogge Home
† Greg Schoborg
Saturday (9-23)
5:00 pm - Brewster
† Joe & Rose Weinandt
Sunday (9-24)
8:00 am - Heron Lake
† Charles & Joanne Bartosh
† Kenny & Irene Gehrls
10:00 am - Windom
† Joan Bregel
Tuesday (9-26)
5:30 pm - Windom
† Jeronimo Rivera
Wednesday (9-27)
9:00 am - Heron Lake
† Rodney Miranowski
Thursday (9-28)
9:00 am - Brewster
† MaryAnne McNab
Friday (9-29)
9:30 am - Sogge Home
† Ben & Dorothy Becker
Saturday (9-30)
5:00 pm - Brewster
† Jack Strouth
Sunday (10-1)
8:00 am - Heron Lake
† Wm (Bill) Lohse
10:00 am - Windom
† Joan Bregel
Know that Fr. Pratap includes all of us in his daily prayers and private Mass intentions.
An Act of Spiritual Communion
My Jesus,
I believe that You are present in the Most Holy Sacrament.
I love You above all things,
and I desire to receive You into my soul.
Since I cannot at this moment receive You sacramentally,
come at least spiritually into my heart.
I embrace You as if You were already there
and unite myself wholly to You.
Never permit me to be separated from You.
Amen
No 9 A.M. Mass in Heron Lake on Wednesday, January 4th
Sacred Heart Cemetery
September 2023
Our parish maintains the Sacred Heart Parish Cemetery. People who live and those who have traveled here know we take pride in keeping our cemetery mowed, trimmed, and maintained. Many family members are still in the area, but many are spread out across the United States. We want you to know, if you have great-grandparents, grandparents, parents, a spouse, siblings, aunts, uncles, or a child resting in the cemetery we continue to pray for all the dearly departed who rest here. We are reaching out to those who may be willing to donate to the cemetery care campaign fund that will be used long after we are gone and, maybe you too, will come to rest in our cemetery in the distant future.
What is Permanent (Perpetual) Care? Simply, a base amount. Permanent Care is what will help us sustain the maintenance of our cemetery for perpetuity. Grave sites in our cemeteries go back to the mid-1800s. Some of these very first sites still have descendant family members living in the area and others do not. Here is one example of a Permanent Care need: Over time cement foundations can crack and cause a headstone to start tipping. If no family descendants are alive to contact for needed repairs, the repairs then fall to the cemetery. Permanent Care funds are used to fix issues such as this. Replacing a cement slab under a single headstone can cost hundreds of dollars. Mowing, trimming, weed control and trees, unless volunteered, take money for maintaining. Sadly, the Permanent Care funds for our cemetery is severely underfunded. People, such as you, can help in several ways. First, if you have the means to make a monetary donation now, in any amount, the gift would be greatly appreciated. Secondly, we are asking you to remember the Sacred Heart Cemetery with IRA distributions, gifts of stock, or in your last will and testament when you plan your future estate disbursements. In today's times, it is only through gifts or donations, that funds come back to the cemetery. All gifts are tax deductible.
How is Permanent Care calculated? We are a part of the Diocese of Winona-Rochester. They ask each Catholic cemetery to have on hand an amount of $25,000 per acre. Sacred Heart is requested to have over $75,000 on hand; to date the amount is $33,375. We fall a bit short of our requested amount. The Diocese asks that Permanent Care funds be invested, at the cemetery board's discretion, so dividends and gains can be returned to the cemetery for use on maintenance costs. The $25,000 per acre becomes the "nest-egg" from which we receive gains/dividends. Any gained money can then be requested by the cemetery to be used for mowing, maintenance, repairs, equipment expenses, etc. Please know that the cemetery is its own entity. Money cannot, and will not, be shared or sent to the Diocese or used by the parish. It is restricted to one use only; to maintain the cemetery.
Thank you for your willingness and consideration to help with this cemetery care campaign. Please know that any amount is appreciated; nothing is too small. Listing Sacred Heart Cemetery of Heron Lake as a future beneficiary for a donation would be a tremendous blessing and we are grateful for the consideration. Our contact information is below. One last request we ask of you is to help inform and share our letter with any family members we may have missed in our search for addresses. If you have questions, please reach out to us. If you chose to send a check, please make your check payable to the Sacred Heart Cemetery.
Thank You!
Sacred Heart Cemetery Trustees
Wayne Rasche
Robert Leopold
Sacred Heart Cemetery Board
David Freking
Jason Freking
The Catholic Parish Of Sacred Heart
311 9th St., PO Box 377
Heron Lake, MN 56137
Email: hlsacredheart@gmail.com
Ph: (507) 793-2357
Saturday September 30th 9:00—12:00 - Sacred Heart Church Heron Lake
Saturday October 7th 9:00—12:00 - St Francis Xavier Church Windom
Saturday October 7th 11:00—12:00 - Sacred Heart Church Brewster
Saturday October 28th 11:00—12:00 - Sacred Heart Church Heron Lake
I used to coach my oldest son in soccer when he was younger. As he got older, he would go to tryouts for select and high school teams. I was no longer the coach, but I always shared with him one piece of advice before any tryout: Be sure to look the part. I told him that if he showed up looking like a soccer player, there was an increased chance of him being seen as a soccer player. If he showed up looking like a kid that plays soccer in video games as opposed to the real thing, he might not be taken seriously. As he grew older, that same advice was then applied to getting a job. It's advice I have heeded myself all my life. You can even say it is like another common phrase: "Fake it till you make it."
As disciples of Jesus Christ, we certainly do not want to fake it, but we do need to look the part. The world looks at those of us who proclaim to be Christians to see if there is anything to this way of life. If they see us looking and acting like people transformed by Jesus Christ, they will be more likely to take Christianity seriously. If they look at us and see nothing different, then they can easily conclude that there is nothing different about Jesus Christ. He just becomes simply another religious figure of history. Can the world see the power of Christ in you? How will do you look the part?
– Tracy Earl Welliver
Thank God for his Wonderful Handiwork
As individuals and families:
Meal Prayer
Before and after meals, say a short prayer of thanksgiving for the lifegiving food that sustains and nourishes us. Briefly consider how all nourishment ultimately comes from the earth, and give thanks for all the human hands that helped bring this food to your able. May we recognize, as Laudato Si' has taught us, that this "moment of blessing, however brief, reminds us of our dependence on God for life" (no. 227)
As a community:
Eucharistic Adoration
One of the most meaningful ways we give thanks as Christians is through the sacrament of the Eucharist, a word which means "thanksgiving." As Laudato Si' proclaims, through the Eucharist, "the whole cosmos gives thanks to God" (no 236)
United States Conference of Catholic Bishops 2017
25th Sunday in Ordinary Time
Once I gave my three-year-old niece a certain toy for Christmas. When she opened it, she was happy. Shortly thereafter her five-year old sister opened another present from me: the same toy, along with some play jewelry. The three-year-old cried out: "That's not fair! Why'd she get the jewelry, too?!"
Let's face it: there's something about God's grace in our religion which bugs us. We love to look at others' blessings and cry out: "That's not fair!" Catholicism is not fair in the sense that it is a religion founded on God's grace which is unmerited favor. God pours his mercy, love, and divine life upon us not because we're good but because He is infinitely good.
If you think the "not fair" quality of grace is easy to accept, consider how typically angry we get when we hear the parable of the workers who get paid way more than they deserve. The hyper-generous landowner says to the indignant hard workers, "Are you envious because I am generous?" Well, yes, they are, and so are we! Therefore, we have to reckon with this painful truth in order to move into the divine sphere of gifts, which is the world of Christ and his Church. Then we are able to move beyond a tit-for-tat world and into one where gifts are poured forth on those who don't deserve it — namely, upon us.
— Father John Muir
Vocation View
: Life is service of the Lord is never dull, and often challenging. Consider life as a priest, brother, or sister. (Mark 9:30-37)
Continuing on September 30th
the last Saturday of each month, ADORATION will be in Heron Lake from 11-12. Please spend time adoring Jesus in the Blessed Sacrament. All ages are welcome. Fr. Pratap will also be available for anyone who would like to attend confession. Adoration and Confession is also available on the 1st Saturdays of each month at Saint Francis Xavier Church from 9-12.
A Box of Joy
may be the only Christmas gift a child in need receives. Please return your Box of Joy to the rectory by October 22nd. A list of gift item suggestions & instructions can be found in church entrance. The postage will be paid by CCW.
Faith Formation
classes will begin on Sunday, October 1st for K-6 after Mass at 9 AM. Classes will begin for 7-12 on Wednesday, October 4th at 7 PM.
Sacred Heart HL Cemetery Board
is looking to hire someone to mow the grounds for the 2024 year. Please contact Wayne at 507-360-3348 or the church office at 507-793-2357 if interested.
RCIA
is forming a new class session starting Oct 3rd (after Mass) at 6:15pm in Windom. They will meet weekly until Lent, the day of the week to be decided. If you are an adult who is being called to be prepared and formed for initiation and entrance into the Catholic Church, please attend this RCIA session. Contact the parish office if you have any questions or wish to attend the Rite of Christian Initiation of Adults program.
The September Diocesan Courier
is available at the entrance of the church. Please take one home.
Reaching Through Time, History, Faith and Culture in SW MN.
What was daily life like on the prairie of southwestern Minnesota in the 1880s for Native American girls brought from Dakota Territory to a school in Avoca, Minnesota? What compelled Catholic sisters from a religious order in Pennsylvania to move to Avoca to serve at the school? The public is invited to hear the results of research into the school during a one-day event on October 7 at St. Ann Catholic Church in Slayton, MN. This Fall Social Concerns Day, hosted by the Diocese of Winona-Rochester Social Concerns Committee, will feature local historians, representatives from the religious order the sisters belonged to, displays of historical photos and documents, and performances of traditional Native American dance and music. The public is invited but space is limited and advance registration is required. The registration fee is $20 and includes Native American food for lunch. For more information and to register, contact Isaac Landsteiner at 507-848-8303, ilandsteiner@ccsomn.org
The next Worldwide Marriage Encounter Weekends
are Oct 28-29, 2023 in ALEXANDRIA, MN and Nov 17-19, 2023 in WINDOM, MN. Early registration is highly recommended. For more information call 507-227-8229 or visit our website at: southmnwwme.org Contact Miki at applications@southmnwwme.org
The Baby Bottle Campaign
is coming in October. October is Respect Life Month. Now more than ever the need for support is great, to offset the cut the state of Minnesota made to the Positive Alternatives to Abortion grant. Know that your contribution helps by putting your spare change in the bottle for a month. You can pick up a baby bottle from the church entrance to be turned in at the end of October or give online at www.ccsomn.org/donate
Office of Life, Marriage and Family, and Communications:
You can protect mothers and children by joining 40 Days for Life, a worldwide mobilization to pray and fast for an end to abortion! Through prayer and fasting, peaceful vigils and community outreach, 40 Days for Life has inspired 1,000,000+ volunteers! With God's help, here are the proven results in 30 coordinated campaigns: • Over 20,000 babies saved from abortion • Over 200 abortion workers converted • Over 100 abortion centers closed Learn more at https://www.40daysforlife.com/en/Rochester
Blest Art
, an Olive Wood handmade gifts company, will be at the Tri Parish Churches of Sacred Heart Brewster, Sacred Heart Heron Lake and Saint Francis Xavier on September 30– Oct 1. Please browse and consider purchasing their goods. The Olive Tree is a symbol of peace and hope in the Holy Land. The gifts, made of the Olive Tree then sold through Blest Art, support Christians in the Holy Land who's population is alarmingly low. Your support for these craftsmen and hard-working Christian artists helps to ensure a viable Christian presence in the land where the gospel was first preached.
Many Thanks to Fr. Santosh
for his work in the tri-parish over the past 3 months. You have been a very important part of this tri-parish and we wish you well on your journey.
Always check here for updates and notes about the Eucharistic Revival each week.
Let us seize this moment as the great missionary opportunity of our time. When we hear the words, "Go forth, the Mass is ended," our work as a missionary disciples begins anew as we respond to the Lord's command to "go and make disciples" by the faithful witness of our lives. With confidence, let us entrust ourselves to the care and guidance of the Holy Spirit to bring about a Eucharistic Revival at this time in the life of the world!
Your parish Galvanizers are: Brewster - Bev McCarvel, H.L. - John Stenzel, Windom - Judy Green.
The Year of the Parish
: The formation of the PARISH TEAM begins with you. Please consider joining others from your parish to be part of the founding members that pray for the parish, learn about parish and diocesan activities, and get together to be disciples, who like the first disciples, were called by God. Ask the Lord to inspire you to be utilized and by doing so, have a living relationship with the Lord Jesus Christ in the Holy Eucharist.
The Windom Cemetery Association
will be hosting a public Grave Marker and Memorial Restoration Clinic Monday September 25th from 1:00 to 4:00 pm at Lakeview Cemetery in Windom.
The event is being presented by Northern Bedrock Historical Preservation, an AmeriCorps team from Duluth. The team will be in Windom working on straightening and leveling memorial stones in the 13 acre, 4,800+ headstone historic cemetery September 19-27.
Any person or party interested in a gentle, non-mechanized process of restoration is invited to attend the clinic. Lakeview Cemetery is located on the southeast edge of Windom on Lakeview Avenue, just up 6th Street from the McDonalds corner.
The "Synod on Synodality"... What Is It?
In October 2021, Pope Francis announced a two-year process of listening and dialogue of the Catholic Church, known as the "Synod on Synodality."
A "synod" is a journey of discernment rooted in the Holy Spirit. In the Synod on Synodality, the entire Church has been called to discern how the Spirit is moving through and with the Body of Christ ⁠— inside and outside the Church ⁠— so that we may continue to fulfill our mission to evangelize in the world.
During the Synod on Synodality, all Catholics are invited to listen with open hearts and minds, to share from their own lived experiences, and to make space for the voices of those often marginalized or excluded.
With these synodal aims, Pope Francis has invited the Church into what is fundamentally a process of healing — both from wounds suffered inside the Church, and those experienced in other areas of our lives and relationships.
The synodal process is already starting in Catholic dioceses around the world. Whether you are preparing to participate in a synod listening session in your parish, ministry or even facilitate synod sessions for your diocese, YOU can model restorative approaches in this important process.
For more information:
Please remember to check the back page of the bulletin and support our sponsors!
Facebook Page
New Parishioners
We welcome you into God's family! If you are interested in learning more about our church, or would like to join, please stop in the Parish Office.
Please notify the Parish Office of any change of address.
Marriage Preparation
Contact the priest 6 to 12 months in advance of the date of marriage to fill out the forms, to do FOCCUS Test and to attend Marriage Prep Mentoring sessions. Fr. Pratap is seeking married couples who are practicing Catholics, and have children, who would be willing to volunteer to help prepare our engaged couples for marriage. Please contact Fr. Pratap at 507‑226‑4536, or your parish office, if interested.
Baptism Preparation
Contact the parish office a month in advance to fill out the form and to attend Baptism Mentoring Sessions. All Baptisms will be celebrated during Mass.
Sacrament of Reconciliation
The Sacrament of Reconciliation still available by appointment for each Parish.