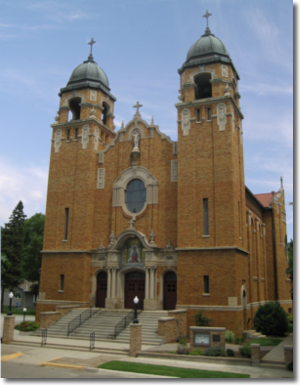 Tri-Parish Mass Intentions
Tuesday (08-11)
5:30 pm - Windom
† Jim Schwalbach
Wednesday (08-12)
9:30 am - Heron Lake
† Karen Mathias
Thursday (08-13)
9:00 am - Brewster
† Laurie Haberman
Friday (08-14)
5:30 pm - Windom
† Al Purrington
Saturday (08-15)
5:00 pm - Brewster
† Sylvester & Loralie Schmitz
Sunday (08-16)
8:00 am - Heron Lake
† MaDonna Hullerman
10:00 am - Windom
† Jim Schwalbach
Tuesday (08-18)
5:30 pm - Windom
† Joe Carpenter
Wednesday (08-19)
6:00 pm - Heron Lake
† Ben & Dorothy Vanderheiden
Thursday (08-20)
6:00 pm - Brewster
† Joyce Konradi
Friday (08-21)
5:30 pm - Windom
† Jack Determan
Saturday (08-22)
5:00 pm - Brewster
† LeRoy & Catherine Starner
Sunday (08-23)
8:00 am - Heron Lake
† Wyatt Henkels
10:00 am - Windom
† Brian Spencer
Know that Fr. Pratap includes all of us in his daily prayers and private Mass intentions.
Pope Francis Prayer for protection from Coronavirus
O Mary, you shine continuously on our journey as a sign of salvation and hope.
We entrust ourselves to you, Health of the Sick.
At the foot of the Cross you participated in Jesus' pain, with steadfast faith.
You, Salvation of the Roman People, know what we need. We are certain that you will provide, so that, as you did at Cana of Galilee, joy and feasting might return after this moment of trial. Help us, Mother of Divine Love, to conform ourselves to the Father's will and to do what Jesus tells us:
He who took our sufferings upon Himself, and bore our sorrows to bring us, through the Cross, to the joy of the Resurrection. Amen.
We seek refuge under your protection, O Holy Mother of God.
Do not despise our pleas – we who are put to the test – and deliver us from every danger, O glorious and blessed Virgin.


HAPPY BIRTHDAY FR. PRATAP!!
Thursday, July 2nd
Total attendance at each Mass is limited to 50% of occupancy with proper social distancing of 6 ft between people not living in the same household. If you have a fever or are ill, please stay home
Remeber to remove your mask at communion time, line up in single file staying 6 ft. apart, and sanitize your hands. Thank you
Protocols for the public celebration of the Eucharist (MASS) during the Pandemic Restrictions
Wear a Mask, Maintain a social distance of 6 feet from others, Sanitize your hands at the entrance of the Church, Wait for ushers to guide you to a pew.
My Responsibilities when choosing to participate in the celebration of the Eucharist:
When in good health and with no cold, cough and fever, I choose to participate in the celebration of the Eucharist.
I wear a mask to the Church, sanitize my hands at the entrance of the Church and wait for ushers to guide me to a pew. Please do not enter Church without a mask.
Prior to receiving Communion, I sanitize my hands, follow social distancing and receive Communion reverently in my hand. Ushers will direct the Communion line.
I'll drop my offertory envelope in a basket placed at the entrances of the Church.
I will collect my own bulletin.
If I am able, I'll volunteer to assist in liturgical or ministry roles.
The faithful should be aware that the obligation to attend Sunday Mass remains dispensed until further notice.
Click here for the guidelines as suggested by Minnesota Department of Health.
While you are staying safe at home you can find daily gospel messages from Bishop Quinn at the Dioceses FaceBook page. If you have Facebook – go to the page for the Diocese of Winona‑Rochester and "like" the page, and these videos should show up on your Facebook newsfeed. https://www.facebook.com/DioceseWinonaRochester/videos/228448054972275/
You can find the daily readings at the United States Conference of Catholic Bishops website http://www.usccb.org/bible/readings/
Please stay home when you can and stay safe.
Contributions can be sent to Sacred Heart Church, PO Box 377, Heron Lake, MN 56137. You may also continue to support your parish through an online giving option. Giving is an act of worship. Your parish continues to need and appreciate your support.
Online parish donations: An online page has been created on a secure website so that donors can make donations online to any parish in the Winona‑Rochester Diocese. Please visit https://catholicfsmn.org/parish‑donations. Donations made on this site are for the operations of parishes. Donors can use the drop‑down menu to select the parish that they would like to support. If donors would rather call in to provide their information, they can contact Monica Herman directly at 507‑858‑1276.
An Act of Spiritual Communion
My Jesus,
I believe that You are present in the Most Holy Sacrament.
I love You above all things,
and I desire to receive You into my soul.
Since I cannot at this moment receive You sacramentally,
come at least spiritually into my heart.
I embrace You as if You were already there
and unite myself wholly to You.
Never permit me to be separated from You.
Amen
Weekly Gospel Meditation
We are hardwired for wholeness and crave it. When something is broken, we want it fixed. If a part of our body is not working properly, we want it healed. How often do we find ourselves saying, "I'm tired of struggling with this cold, I can't wait for my surgery to heal, or I want my treatments to make me better." Wholeness and healing restore our relationships and make us free to love as we desire. We know very well how our limitations, imperfections, and brokenness really limit us. They can easily prevent us from being and doing what we want to do.
Our physical and emotional wounds and maladies are easier to identify. If my back hurts, I feel it and know what part of my body needs attention. If I am feeling intense anger, I can identify the emotion and take necessary steps to uncover its cause. Being persistent often brings greater and quicker results. But will pursuing and even achieving our physical and emotional healings really be enough? We forget that there is a deeper healing that we seek and desperately need. As we look around at humanity, there are some physical and emotional wounds and scars that cannot be made whole. They are limitations that must remain and, for one reason or another, cannot be rectified. Does this mean that the wholeness and healing that my being longs for is not possible for me? Must I settle with less than what God promises?
The answer is no. Ultimately, there is a desire that goes deeper than the physical and emotional. It is a desire that resides in our soul. What we really seek and thirst for is healing and wholeness for our soul. Inner strength, conviction, focus, grounding, love, hope, faith, courage, determination, peace, and connectedness are all words that center us on eternity. They direct us to a presence we discover in our core, which is none other than the presence of God. In God, we are healed. When we are persistent in reaching out to and establishing our relationship with God, real healing and wholeness begin to happen.
There are some limitations and some of our brokenness with which we may simply have to live. This does not mean that we have to abandon our journey to wholeness and healing. If we have done our inner soul work, we have worked toward and acquired what and who we ultimately need and desire.
There will be no
Wednesday Mass at 9:30 AM on August 19th.
Remeber to remove
your mask at communion time, line up single file staying 6 ft. apart, and sanitize your hands. Thank you.
Support your church
by placing your contributions, before or after Mass, in the baskets available on the tables in church entrance. You may also mail them to Sacred Heart Church, PO Box 377, Heron Lake, MN 56137. An online option is also available. We have a $16,000 property liability insurance payment due this month. Thank you for your support.
For more information on COVID relief fund
Sponsored by Catholic Charities of So.. Minnesota, check with your office.
First Communion
will be Wednesday, August 19th, at 6:00 PM, for our 1st Communicants and their families. All are welcome to attend this celebration of Mass. Masks are mandatory. Please keep
Trae Janssen, Brynn Erickson, Braiden Olsem, and Kutler Serreyn
in your prayers as they receive the Holy Eucharist for the first time.
The CCW
is in the process of updating the 2020‑2021 Parish Directory. Please let Collette Diemer know of any changes needed at
ckdiemer@mvtvwireless.com
or 793‑2582 by the September 15th deadline. You may also notify the parish office. We need to update cell phone numbers if you've dropped your landline. Thank you.
First Communion Information - Tri Parish:
Windom:
Practice ‑ Wed., August 19th, 6 PM
First Communion ‑ Sat., August 22nd, 11:00 AM
Heron Lake:
First Communion ‑ Wed., August 19th, 6 PM
Brewster:
First Communion ‑ Thurs., August 20th, 6 PM
First Communicants and families only at Windom. Masks are mandatory.
(First Reconciliation will be scheduled at each Parish)
The Mary Joe Copeland trailer is full!!
PLEASE DO NOT
leave items in the Church entry, hall, or by the trailer. We will announce in the bulletin, the announcements , and our FB page when it is open again.
The missalettes
are placed in the back of the churches. Please feel free to take one but be sure to take it home and bring back to use each week. If left behind, it will have to be thrown away.
Are you, or someone you know
, pregnant and in need of support? Catholic Charities offers free, confidential support to those who are pregnant or have a new baby. In addition to resources like free baby items and rental assistance, our social workers offer parenting education, decision‑making counseling, and adoption planning and information. We are available to answer calls 24/7 at 800‑222‑5859. We can help you thoughtfully decide between parenting or adoption and confidently pursue the best plan for yourself and your baby.
These last months
have been incredibly difficult on all of us and marriages have suffered! Please let us help you to find enrichment, joy, and hope in your relationship! Register for the August 29‑30 Marriage Encounter Weekends are held at Mt. Olivet Conference and Retreat Center in Farmington. Visit
www.marriages.org
for additional information or call 651‑454‑3228.
Evangelization discernment retreat
: "Christ's Love Compels Us" evangelization discernment retreat will be September 11‑13, at Shalom Hill Farm in rural Windom. It will be led by Dr. Susan Windley-Daoust and Fr. Jonathan Fasnacht. COVID19 restrictions will be in place. Please see the diocesan website for more information and registration.
The Most Reverend John M. Quinn
, Bishop of Winona‑Rochester, in recognition and gratitude of your years of marriage, requests the honor of your presence at the Diocesan Marriage Anniversary Mass: Sunday, September 13, 2020. The Holy Sacrifice of the Mass will take place at two o'clock in the afternoon at Holy Spirit Parish, 5455 50th Ave NW, Rochester. In order to keep you and your spouse safe, we are asking that ONLY the celebrating couple attend the Mass. There will not be a reception after Mass, but an anniversary certificate will be given to each couple after the Mass. If you wish to participate online only, please register at
www.dowr.org
(and let us know that is your preference) and we will send you the liturgy program via e‑mail.
Sacred Heart
Parish of Heron Lake has a job opening for office personnel performing secretarial work, answering phone, recording historical records, and other duties. Minimum 4 hours per week. Flexible schedule. Requires good people skills, organizational and computer skills, preferably including MS Word, Excel and Publisher. The candidate needs to be a practicing Catholic and willing to work with people of all ages. If interested, please contact Carmen at 507‑793‑2357 or stop in the office.
Cross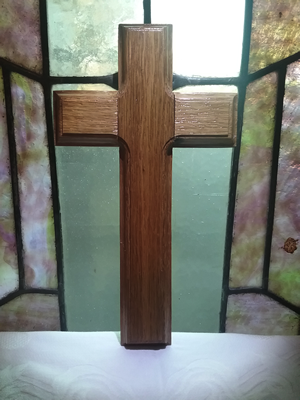 A dedicated group of men created this cross from pieces of the original kneelers from Sacred Heart Catholic Church. They are being offered to parishoners and others for a nominal donation to Sacred Heart Foundation, to continue the restoration.
We would like to offer a cross to our eldest current or past Parish members living near Heron Lake or anywhere in the world, especially if living in skilled care facilities, home bound or with health difficulties. For those with the greatest need, it will be sent free of charge to the reciepients immediate family member for the presentation to their loved ones.
Church Renovation
Sacred Heart Church was built in 1920‑1921 and is listed on the National Register of Historical Places. This beautiful church has provided the spiritual needs of Sacred Heart Parish for many years. As the church has been there for our needs, it is time we take care of its. We are in the process of renovating the church in preparation of its 100th year anniversary.
Facebook Page
New Parishioners
We welcome you into God's family! If you are interested in learning more about our church, or would like to join, please stop in the Parish Office.
Please notify the Parish Office of any change of address.
Marriage Preparation
Contact the priest 6 to 12 months in advance of the date of marriage to fill out the forms, to do FOCCUS Test and to attend Marriage Prep Mentoring sessions. Fr. Pratap is seeking married couples who are practicing Catholics, and have children, who would be willing to volunteer to help prepare our engaged couples for marriage. Please contact Fr. Pratap at 507-226-4536, or your parish office, if interested
Baptism Preparation
Contact the parish office a month in advance to fill out the form and to attend Baptism Mentoring Sessions. All Baptisms will be celebrated privately until further notice.
Sacrament of Reconciliation
The Sacrament of Reconciliation still available by appointment for each Parish.